JoJo went to the vet last week for his 3-month checkup , and my oh my, is that boy growing like a weed! Here's an update on our sweet and crazy baby boy...
Coat Color:
Still blue/brindle. His brindle stripes are becoming a little more prevalent, but his blue coloring isn't going away.
Eye Color:
Still mostly blue. At times, they look a little greenish/hazel, but I would still classify them as blue.
Age:
14 weeks
Weight:
19 lbs (almost double from his 2 month check up...)
Likes:
Walking on/over/across whatever is in his path. You're sitting or laying on the couch, and you're in his way? No problem, he'll just climb over you.
Tennis balls. And various and assorted other toys, too.
Chewing on clothes and/or shoes that don't belong to him.
Snuggling with Shanny Mae and his humans.
Watching me get ready in the morning.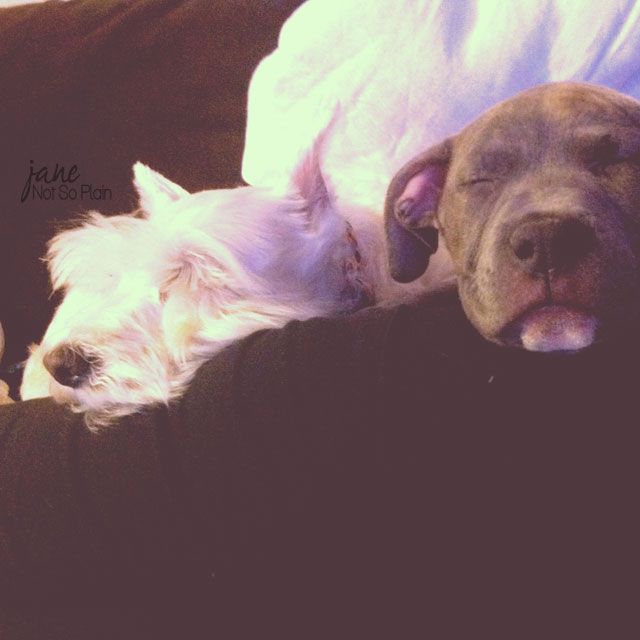 Dislikes:
Getting in trouble. He hides under the table with his ears back and tail tucked when he gets in trouble. At least he understands that he misbehaved?
Being in his kennel for more than a couple hours. He does best when he has a bone or toy to keep his attention or when he's tired. If he has a ton of energy or we're moving about the apartment, then he's not so happy to be in there.
Going outside in the rain.
Walking on a leash. That's next up on the training agenda...
Overall, JoJo is still such a love bug, and we're so happy to have him in our little family. He's still young and very much a puppy, so there are times when I want to pull my hair out. I like to refer to him as the monster...pee monster, chew monster, etc. Besides that though, he has a great demeanor: very sweet, happy and playful.
When I took him to the vet last week, he wanted to meet everyone who worked there and gave lots of snuggles and kisses. The ladies who helped with him all commented about how happy he was, which of course made me glad that they were saying good things about him.
He goes back in a month for his next round of shots, so look for another update then! Meanwhile,
follow me on Instagram
to keep up with his daily shenanigans (among other things).
INSTAGRAM
/
FACEBOOK
/
TWITTER
/
PINTEREST