Oh hey, Monday...not real happy to see ya, but you're here nonetheless. Today, I'm joining my girl
Marcia
to share a few
Monday Musings
with you.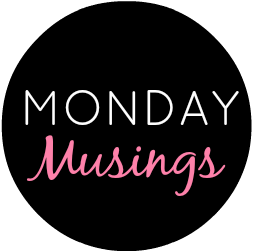 -ONE-
So, Kyra has clients EARLY in the morning, aka he has to be at the gym by 5 or 6am most days. Since we've had JoJo, Kyra let's him outside to potty, then plops him & Shanny in bed with me to go back to sleep until I'm ready to get up for work. Now, normally when JoJo is ready to be awake, he's balls to the wall ready to play. But, in the morning, when he's ready for me to wake up with him, he just licks my face instead of nipping at it. This, I am very thankful for. #nobiting


-TWO-
We got our booties kicked at work on Saturday night, aka I'm still tired and worn out from my shift. Plus, it's rainy outside, so all I wanna do is SLEEP. #naptime
-THREE-
I failed to take any pictures over the weekend of the project I recently finished, so no Maker Monday post today. #bloggerfail
-FOUR-
Yes, I'm aware that hashtags don't mean anything on a blog. #mysitemyrules
-FIVE-
I've mentioned before that I get bad under eye circles, so instead of covering them up, I'm going to try to lighten them. Now, I'm gonna do anything crazy, but I did order the
ANEW Reversalist Eye Illuminating System
. Once I get my grubby paws on it, I'll let you know how I like, if it works, etc.
Anyway, enjoy the rest of your day. I'll be back later in the week!
INSTAGRAM
/
FACEBOOK
/
TWITTER
/
PINTEREST