Last night was the first time in quite a few years that I was actually excited to watch the Oscars. I have probably mentioned it before, but I am a die-hard Ellen DeGeneres fan. I loved having her as the host of the event. There has been some buzz about the show being boring or "safe," but I really enjoyed it and laughed out loud at multiple different points in the show.
Now that that's out of the way, here are my picks for best & worst dressed, speeches, moments, etc.
Kate Hudson in Versace
Love the whole look. She's stunning!
Lupita Nyong'o in Prada
She can do no wrong. Absolutely gorgeous!
Jennifer Lawrence in Dior Couture
I love everything about JLaw. She's hilarious and beautiful, too
Bradley Cooper in Tom Ford
Sleek, classic, and very handsome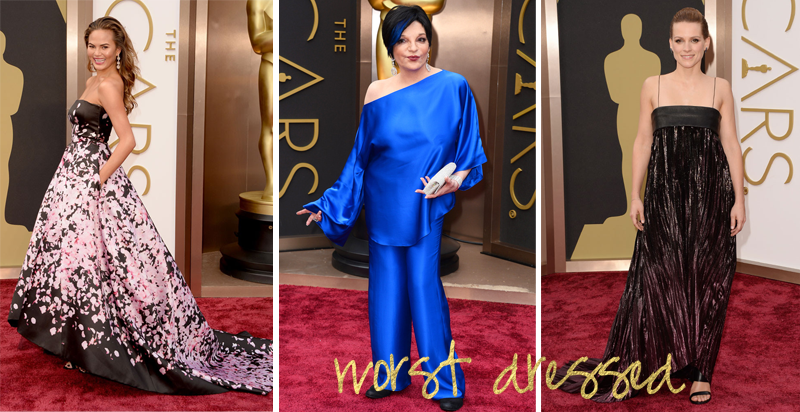 Chrissy Teigen in Monique Lhuillier
Looks like she's headed to prom. She's a beautiful woman, but this dress has got to go!
Liza Minelli (forgot a bra and matched her electric blue hair streak)
She needs to lay off the plastic surgery
She forgot her bra...
AND, she matched the electric blue streak in her hair.
Veerle Baetens
This dress does NOTHING for her figure, just too boxy
Best Acceptance Speech
Most Awkward Acceptance Speech



Best Moment of the Night
If only Bradley's arm was longer. Best photo ever. #oscars pic.twitter.com/C9U5NOtGap
— Ellen DeGeneres (@TheEllenShow) March 3, 2014
What did you think of the show?
INSTAGRAM
/
FACEBOOK
/
TWITTER
/
PINTEREST