So,
I mentioned a couple weeks ago
that I started the 21 Day Fix. Well, I didn't finish the first go around, but I am going to re-start the program on Monday. Let me say this...it was not the plan that failed, it was me that failed. I started strong, but slacked on planning and eventually just stopped trying. The past is the past, and I am ready to move forward.
Today, I'd like to share the meal plan that I created specifically for the 21 Day Fix.
Here's a quick breakdown of the color-coded craziness seen below:
The 21 Day Fix is a portion-controlled container system. Based on your calorie intake, you'll eat a set number of green, purple, red, yellow, blue & orange containers per day.
Green is vegetables, purple is fruit, red is protein, yellow are starchy carbs, blue is fats, and orange is for dressings or seeds
I color-coded each meal so I could visually see and confirm that I was consuming the correct amount of food from each group per day.
This meal plan falls into the 1200-1400 calorie range of the program.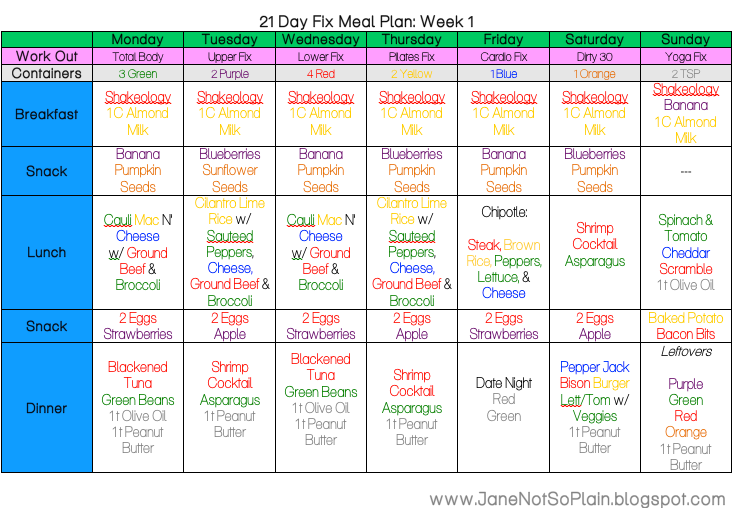 Click here to download a PDF of this meal plan!
See my
Cauli Mac N' Cheese recipe
here.
INSTAGRAM
/
FACEBOOK
/
TWITTER
/
PINTEREST