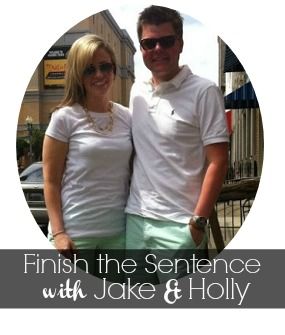 I love the
Finish the Sentence
link parties because they're fun, random, and who doesn't love Jake & Holly? Here are my answers for this round:
I always pick
cheddar
over
american cheese.
Look at the size of those...
I don't know I was trying to think of something witty, but I, for the life of me, could not come up with anything.
I recently learned
that a female dog can be impregnated by two different male dogs at the same time. Mind blown!
Only when no one is looking
do I eat like a 5-year-old. Sometimes, chicken nuggets and mac n' cheese just cannot be beat.
I lost my
mind when Heidi Klum and Seal announced their separation. I definitely thought they'd be in it for the long haul. #wrong
I was certain I'd be
an actress when I grew up. I was a touch dramatic when I was little (still am a bit), so I thought I'd be perfect in Hollywood. I then realized that I do not have the chops to be an actress.
There is not enough liquor in the world for me to
touch a snake with a ten-foot pole.
I just finished
reading The Fault in Our Stars. It was a good, quick read, but a tear jerker.
Why does everyone have to be
so judgmental. You do you, and let me be me. Ya dig?
It's very rare when I
don't watch some sort of TV in the evenings. Hi, I'm Tori and I am a TVaholic.
If I were a dog,
I would be Shanny. She sleeps all day, and just wants to be loved and snuggled. Plus, it doesn't hurt that she's spoiled rotten.
I don't believe
half the things I read on the internet, which is weird because I work on the internet for a living.
INSTAGRAM
/
FACEBOOK
/
TWITTER
/
PINTEREST