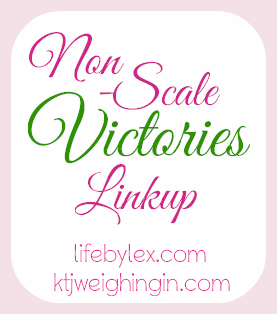 The last few weeks have been lax (understatement of the year), eating and working out-wise, so my non-scale victories are a tad sparse. BUT, I did finish reading
VB6: Eat Vegan Before 6:00 to Lose Weight and Restore Your Health...for Good
by Mark Bittman. Not only did I finish reading the book, I also started working on 2 weeks worth of meal plans following this method. Combine the two, and we have a solid NSV on our hands!
Background
Mark Bittman has been a food writer for years and paid little attention to the food he was consuming until his doctor told him that he was pre-diabetic and that he needed to become vegan. Bittman didn't see how he could go completely vegan in his line of work, so he came up with a compromise. Thus, VB6 was born. After following this method for a few months, all of Bittman's bloodwork came back clear...no longer pre-diabetic and normal numbers.
Gist of the Book
The book is divided into two parts: first, the idea, philosophy, and why it works; second, a meal plan and recipes. It's all about balance; VB6 emphasizes eating tons of fruits and vegetables, consuming moderate amounts of whole grains, and having "treats" after 6 pm. Treats include meat, dairy, desserts, and any other food you wouldn't eat during the day.
My Thoughts
I love this line of thinking: you won't feel deprived because you never eliminate entire food groups. I've said it before, but I don't get nearly enough vegetables in my diet, and I think this is a good way to change that. And, this type of eating is sustainable. It's not a diet, it's a lifestyle.
There's also an underlying positive impact of VB6 that Bittman touches on that I think is important, and it's the effect we have on the environment by consuming loads of animal products every day. We will eventually run out of resources to maintain the amount of animal products we consume. By eliminating some of these products from your diet, you are lessening the burden. The nice thing too that Bittman points out is that since you are purchasing less meat/cheese/dairy, you are able to purchase better quality products in smaller amounts without increasing your grocery budget.
Overall, I really like the book and will be giving VB6 a try. Like I said, I have already started making 2 weeks worth of meal plans, which will start on Monday. I'm excited for this lifestyle change, and I can't wait to share my thoughts and progress about being a "flexitarian!"

INSTAGRAM
/
FACEBOOK
/
TWITTER
/
PINTEREST