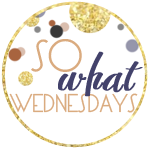 Today, I am saying so what if...
I was supposed to start VB6 on Monday but that didn't happen. We got snowed in and haven't had water for 3 days in the apartment, so it got put on hold for a hot minute.
I'm still a bit crabs. I learned how to turn off the main water line while the busted pipe was "raining" freezing cold water on me. I haven't been able to completely warm up since!
I keep chanting "It could be worse" in my head. Yes, it sucks that we haven't had water for three days and now have a busted pipe, but neither of us is hurt, we have heat in our apartment, and food to eat.
I was a little excited about being back in class last night. I took a couple online classes recently to free up some time, but it was kind of nice to be back in that routine of being in class and meeting people. Here's to hoping Advanced Corporate Finance doesn't kick my booty!
I (literally) just now learned the keyboard shortcut for adding a space between bulleted lines with out the bullet. (It's shift + enter, btw.) Mind = blown.
INSTAGRAM
/
FACEBOOK
/
TWITTER
/
PINTEREST