I'm taking a short break today from the
Jane Not So Plain Gift Guide
to join the fun for a couple link parties!
Let's start with
Amber
and
Jennifer
's Festive Favorites!
Favorite Christmas song: Santa Baby and All I want for Christmas is You (Mariah's version!)
Christmas song you can't stand: That stupid one with the dogs barking the whole time...it grates my nerves so dang bad!
Favorite holiday movie: Elf, Polar Express, The Santa Clause
Real or artificial tree? Artificial
White or colored lights? White on the tree and colored on the house
Matching or random, personal ornaments? Both! I have some matching ones to fill the gaps between the personal ones.
Favorite ornament. Minnie Mouse dressed as a ballerina sitting on top of a ball ornament. I got it when I went to Disneyland for the first time...senior year of high school.
Angel or star tree-topper? Angel growing up, but now I have a big bow.
Does Santa wrap presents or leave them unwrapped? Santa is a wrapper!
Favorite childhood memory. I remember one time when I was REALLY little, and all of my cousins were at my grandma and grandpa's house on Christmas Eve. We were playing in one of their rooms and talking about Santa coming. We were chatting back and forth about how we had heard Santa's sleigh in years passed and all that. It just reminds me of the magic of the season and makes me happy!
Coffee, hot chocolate, or eggnog? Hot chocolate with Rum Chata, a splash of Captain Morgan, and topped with whipped cream and crushed candy canes.
Christmas morning at home or do you travel? Well, it varies/depends. When I was little, we started the morning with my mama, then went over to my dads. As we got older and my dad moved out of state, we'd either spend the day with my mom then head out to see my dad later in that evening or the next day.
Traditional or unconventional holiday meal? Mostly traditional.
Christmas card style? I haven't sent out a "family" Christmas card yet, but I will probably do personalized photo cards when the time comes. Those are my favorite to receive!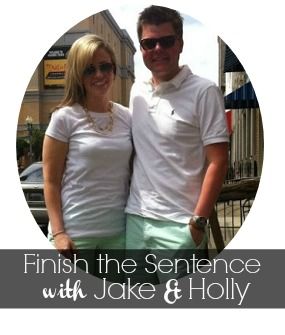 Next up, we have "Finish the Sentence..." with
Jake
and
Holly
!
My favorite Christmas was...the first Christmas Kyra and I spent together. He surprised me with beautiful diamond earrings, and our relationship was still new and the season seemed so magical. Also, it was the first Christmas we had my nephew, so it was just all really special!
The worst Christmas I had... has not stuck in my memory. Either I completely blocked it out, or none of them have ever been that terrible. Let's go with the latter...
That one gift that made me scratch my head and say, "Hmmmm" was... every year at work, people always make a bunch of treats to pass around, and I got some biscotti. It just tasted weird. It was a lovely gesture, and others may have liked it. But, I did not.
I think the worst gift to give is... something impersonal. In my book, thoughtful gifts are the best to give AND get.
At Christmastime I typically... am nuttier than a fruitcake. I usually have to finish up making presents at the last minute, plus there are always a bunch of social obligations. It all just kind of stresses me out.
Typically, family Christmas... is lots of fun! I am blessed with a great family, and we (usually) have a good time together.
It is so hard to buy for... my dad. He doesn't like "stuff," and he is in the position to buy what we wants and/or needs. Again, I like thoughtful gifts, and I always struggle the most with coming up for something for my dad.
My favorite Christmas traditions are... the ones I mentioned here. ]
Santa, baby, bring me... a million dollars. No, but seriously.

INSTAGRAM
/
FACEBOOK
/
TWITTER
/
PINTEREST