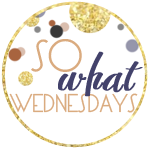 Hi friends! Sorry I have been MIA lately. Work has been crazy busy, and by the time I get home and done being an adult (ya know, doing the dishes, working on the laundry, going to the grocery store, etc.), I don't have the energy to do much else besides lay on the couch. Hopefully, I will be better/inspired to come to this place more often.
In the mean time, so what if:
Shanny and I have matching coats to wear when it gets cold outside. They're purple :)
I haven't gotten a haircut in over 5 months. Don't worry, I will be fixing that this evening. #goodbyedeadends
I like to use hashtags in blog posts. #dontcare
My first attempt at making sweet potato chips was mostly a success. While they are edible, I will NOT be making them again without a mandolin slicer. My knife skills are terrible, and I was terrified of chopping off a finger the entire time.
I have started my Christmas shopping and planning what I will be making for people. I am determined to not have to finish things up on Christmas Eve. Again.
What are you saying "So What" to?
-30 Days of Thanks-
Today, I am thankful for the friends I have made through Jane Not So Plain. You guys are awesome! Thank you for reading, commenting, and following along on this journey. MUAH!

INSTAGRAM
/
FACEBOOK
/
TWITTER
/
PINTEREST