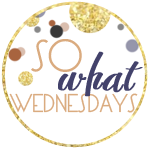 For this week's
So What Wednesday
, I am sharing the things I'd love to have in my possession one day. So, mainly I am saying, "So what if I want all of these things!" I don't need them all at once, but I would love to have them :)
Maskcara IIID Foundation
It's not even available yet, and I am already chomping at the bit. If you only follow one beauty blogger, Maskcara has to be it. She's self-taught which I love, but she's super sweet, knows what she's talking about, and was named Allure's beauty blogger of the year. I've learned so much from her blog!
My Dream Engagement Ring
Not gonna lie, I emailed Kyra the link to
this ring
yesterday. We aren't going to get engaged anytime soon, but he will need this little nugget of info when the time comes. If this ring landed on my finger, I don't know if I would ever be able to stop staring at it.
Tory Burch Flats
You can never go wrong with black & gold (spoken like a true Mizzou Tiger...sometimes I can't help myself.)

Louis Vuitton Bag

In my dreams...

Fresh Flowers in the House Everyday

I love the smell of fresh flowers, and they aren't so bad to look at either. There's just something so refreshing about a bouquet of flowers sitting on the table.


Massage Envy Membership
Members pay a monthly fee which includes one massage/month. If you don't use your massage one month, it rolls over to the next. I would be in heaven and probably much more pleasant to be around.
-30 Days of Thanks
-
I am so thankful for my family. I would not be the person I am without them, and I cannot even begin to express how lucky I feel to have ALL of them a part of my life. My family is not perfect, and we all have had our struggles. But, with all of that, it has shaped who I am and the woman I have become.

INSTAGRAM
/
FACEBOOK
/
TWITTER
/
PINTEREST