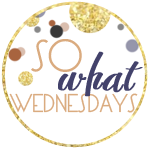 Today, I am saying so what if...
I spilled Scentsy wax ALL OVER the place while I was trying to dump it out. I needed to switch to my new fall scent. Nothing a hard plastic pancake flipper can't handle.
I have no idea what I am going to be for Halloween. I want to be something fun and cool, but I don't want to spend a ton of money either. Hopefully my creative juices will start flowing soon.
I have 3 baskets of dirty laundry. I've got clean undies, so it's not an emergency yet.
I bought the $9 bag of Halloween candy. I got the good kind, and it was for Kyra and me.
PS
Ok, so I've mentioned before that I work as a Social Media Coordinator. Through my job, and trial and error, I have discovered some fun little tricks that I've implemented here on Jane Not So Plain. This includes the Facebook like box on my sidebar, the gallery I created for the "My Favorite Blogs" page, and some other things.
Would anyone be interested in tutorials here and there? Again, we are doing it DIY style, so I always want to share these bits of knowledge if there is interest. Let me know!