Posts two days in a row!? Man, I am on top of things ;) You all know I love a good link party, so I am going to once again participate in
Life After I Dew's So What Wednesday
.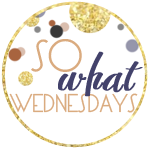 So what if I love Chipotle WAY TOO MUCH. It's just so good in my belly!
So what if I downloaded iOS7 as soon as it was available. My inner-tech geek is super pumped!
So what if I dye my hair from a $7 box from Walgreens. It does the trick, and it looks good, too!
So what if I had to delete a ton of pictures and a handful of apps from my phone in order to download iOS7. Most of the pictures have already made it onto my computer, and I deleted the apps I don't use. It kinda felt nice to purge what I didn't need.
So what if I am looking forward to cooler temps even though I am a self-proclaimed sun goddess. Hello leggings and boots!
So what if I could watch NCIS and Friends all day everyday. They're great shows!
What are you saying so what to?