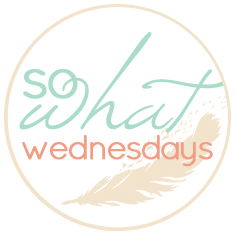 Today, I am joining
Life After I Dew
for a little So What!? action. Here we go...
So what if
I joined
SkinnyMeg's DietBet
and need to lose about 6 lbs in 28 days. I can do it, and I need to do it. I went to the grocery store yesterday to stock up on lots of healthy and yummy food. Seriously, I have only eaten breakfast and lunch so far today, and I can already tell that I physically feel better. It really does make a world of difference when you put better, more healthy things into your body.
So what if
I have a race coming up and I haven't been able to stay completely on track with my training schedule. I still have 5 weeks left to get ready. It'll be tight, but I think I can still make it happen!
So what if
Kyra and I are hosting a family BBQ at our place in less than 2 weeks, and the apartments still needs tons of work. But, let's be honest here, I work best under pressure and this will FORCE me to get that ish done!
Lastly, I also want to mention that I recently sewed up a couple cute projects, so you should definitely check them out!
I made a
turban as part of the Love My Scarf blog tour
to raise awareness about ovarian cancer.
And, I made a
quilted hall hanging trio as part of the National Sewing Month
celebration.