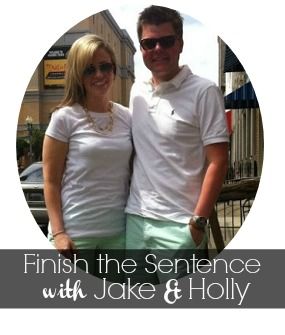 Happy hump day, lovelies! It's time for another round of
Finish the Sentence
, so let's get to it, shall we?
My happy place...is Whole Foods, Hobby Lobby, and/or Sephora. For me, I step into one of these places, and it is instant feel-good vibes.
So what if I....don't refill the ice trays all the time. Kyra doesn't put the toilet paper on the roll, so we're even.
My go-to fast food meal is...Anything Taco Bell, but usually 2 crunchy tacos and a nachos supreme. And, sometimes the nachos are swapped out for a double decker taco.
You might not know that I...
like to think of myself as an
amateur
hair and makeup artist. I have little professional training (Does going to Barbizon count as professional training?), but doing dance hair and makeup over the years has taught me a lot of good tricks. And, when I get my hair or makeup done, I try to pay really close attention to what they're doing, so I can
mimic
it later. Oh, and also, I wax my own eyebrows!
The hottest quarterback in the NFL is...Sam Bradford, duh! But, my heart will always belong to Kurt Warner.
If I could....I would travel across Europe for 2 months, staying in hostels, eating amazing food, and exploring the other side of the world.
My personality is awesome because...I am fiercely loyal and I love with my whole heart.
Twerking is....just another form of booty shakin'.
I think it's super gross when...people pick their nose and eat it. And when people have dirty elbows. Ew!
Someone needs to tell Miley Cyrus....to put her tongue back in her mouth. I get that she is 20 and wants to make waves, but please, please, please keep your tongue in your mouth, girlfran.