Happy Friday, JNSPers! My weekend will be the perfect mix of a couple things to do paired with plenty of downtime, so I am really looking forward to a bit of a slower pace.
On to today's post...a little 5 on Friday action peppered with a Non-Scale Victory and my current song obsession!

-ONE-
I super puffy heart love iOS7! It's like I got a brand new, upgraded phone without spending a dime. I'm still getting used to some of the new features, but I think it's super sleek!
-TWO-
My
Harry Potter bracelet
came in the mail yesterday! And, you can bet your booty that I'm rockin' it today :)
-THREE-
On Tuesday, I had plans for dinner with my girlfriends to celebrate a birthday. I was going to get in a quick run before I went, but it started raining and that idea got nixed. Instead, I took my workout clothes with me to dinner and headed to the gym after I was done. Though, I much prefer running outside, I still got the miles in on the treadmill. I am proud of myself for sticking with my fitness commitments even though life had other plans!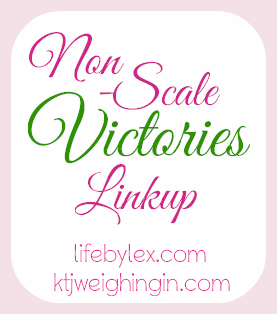 -FOUR-

I updated my intro/bio badge on my sidebar! I think it is more visually appealing, as well as more informational in regards to what JNSP is all about. When I first started blogging, I thought I would mainly focus on sewing and crafts with a little fashion thrown in. As things have progressed, I have focused a lot more on my health and fitness journey, and I have met a lot of great people because of it!

Now, I want JNSP's focus to be on the DIY life. I whole heartedly believe we have the power within ourselves to create the best life possible. Let's be honest here, most of us can't afford personal trainers/stylists/chefs, interior decorators, etc., so we're going to do it ourselves! I want to continue sharing the things I am doing in my life in hopes that it will help you in your life as well.
-FIVE-
In honor of #backthatazzup, I would like to share my current song obsession...
Have a great weekend, lovelies!