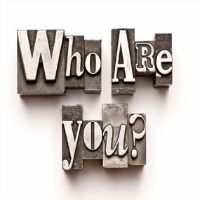 Today, I'm joining
Kimmy
to share a little bit about myself for her "Who Are You?" series.
Describe 10 5 Pet Peeves You Have
People who ride my tail in the slow lane. There's a "fast lane" for a reason.
People who have zero consideration for those around them. Everyone deserves at least some amount of respect from you.
Bad tippers and people who come into a restaurant right before the kitchen closes. If you can't afford to tip decently, don't go out to eat. I'm not saying you always have to tip 20% or more, but you should be able to tip at least 15%.
Close-minded people. Everyone has a story...yes, it may be a different story than yours, but that doesn't make any of us less of a human being.
One-uppers/brand pushers. For example, "I just got a new phone," versus, "I just got an iPhone 5, plus a really cute bedazzled Kate Spade case to go with it." Don't get me wrong, I like Kate Spade and would love to have an iPhone 5, but there are more important things in life than one-upping each other.
Describe a Typical Day in Your Life
Hit snooze for at least an hour, let Shanny Mae out while I am getting ready, go to work, maybe go to the gym after work, go home, eat dinner, then maybe do laundry/do the dishes, and/or watch TV. Pretty typical and not that exciting.
What's the hardest part of growing up?
Always having to think about money. I am definitely much more aware now that everything costs and each purchase has an effect on my finances.
Describe 5 Strengths and Weakness You have.
Strengths
Loyalty
Giving 100%
Loving with all my heart
Being creative
Weaknesses
Being uptight
Procrastination
Punctuality
Perpetual resting mean mug...I really don't mean to shoot you dirty looks, but when I am lost in thought, I tend to have a "mean mug"
Describe When You Knew Your Spouse Boyfriend Was the One or How You Fell in Love
I always knew Kyra was different from all the rest. I can't pinpoint the exact day that I knew Kyra was the one, but he literally shows me so much love every single day. Just the way he is with me and my family, it makes me love him more every day. Honestly, he loves me the way that I always hoped and dreamed someone would. It's hard to explain sometimes, but he really is my other half.
One of these days, I will write a post about how we met and fell in love. It's a good one :)
Kyra J and I
Don't forget! Come back tomorrow to enter to win my birthday giveaway!!!!