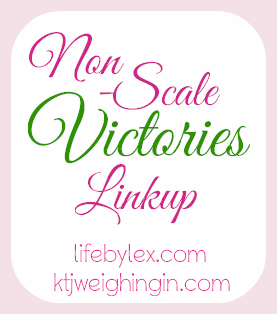 Hello JNSPers! I just wanted to pop in today to join
this week's NSV Link Up
with
Ashlee
and
Katie
.
First, I ran my first ever 5K on Saturday! I have walked a few 5Ks in the past, but I have never run one.
Here are my results, according to MapMyRun:
I am so proud of myself! I have been running on the treadmill consistently at 12-13 min. pace, so I never thought in a million years that I would have these results. It was a great way to start my birthday :)
Second, I went on a 2 mile run with Kyra outside on Tuesday evening. We ran the same route that I ran about a month or so ago. The first time I "ran" it, I couldn't run the whole way. This time, not only did I run the whole way, but it was easy. If you would have asked me two months ago if I would be a "runner," I would have told you were nuts.
Ya know, it really is amazing the things your body can do with a little training and a lot of motivation!
PS
I got some new workout/running stuff for my bday AND I bought my first pair of running shoes yesterday...pictures and details coming tomorrow! Yay!