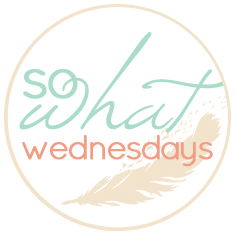 So what if...
The best macaroni casserole I ever made was a Kraft mix. I added ground beef, and it was AWESOME!
I haven't been able to stick 100% to my running schedule because of vacation. I am hoping this week is better.
I found a couple fleas on Shanny. I promptly removed them, gave her a flea bath, and applied her flea meds. Problem solved!
I really love the semi-fallish weather we are having in STL. There's little humidity, and I love driving with the windows down!
My birthday is in a week and a half, and I have no plans other than running a 5K that morning. I'm just not as excited about it this year as I have been in the past. Usually, I have plans made months in advance. I blame it on turning 25...halfway to 30.
What are you saying "so what" to?