Here we go for round three of Holly & Jake's Finish This Sentence link party!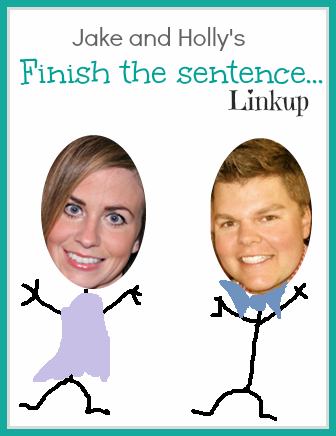 1. I laughed so hard I cried when...is it weird that I have never cried from laughing? Don't get me wrong, I have laughed really hard before, usually when I am with my BFFs, but have never cried from laughing.
2. My high school... still holds a special place in my heart. I was poms captain, DECA president, StuCo VP, and in honors classes. I was the definition of an over-achiever, but I loved every minute of it.
3. It really pisses me off...when people do senseless stuff, like bombing the Boston Marathon or go on shooting sprees in elementary schools.
4. In ten years...I want to be self-employed. My long-term plan is two-fold: first, I want to be a full-time blogger with an Etsy shop; second, I want to open a sewing lounge that is like a paint-your-own-pottery place, but sewing!
5. If I could erase one thing...I would erase my second semester of my sophomore year of college. I like to refer to that period as my "dark days" and would rather that time just disappear all together.
6. In 1999...I was 11 and in 5th grade. I had glasses, braces and a weird haircut. HELLO AWKWARD!
7. Honestly...I want to punch people in the face that don't believe in equality. We were all created equal and deserve the same rights and treatment, regardless of race, religion, or sexual orientation.
8. To me, Sushi...is the bomb dot com! I love everything from Nigiri to fried rolls. YUM!
9. Someone really needs to invent...a way for me to clone myself. I need one of me for school and work and another one of me for creating, cooking, and working out.
10. The first time I drank alcohol...was the weekend before high school graduation. I was with my sister and her husband and it was a ton of fun! I drank Peche Lambic (among other things), and I have loved Lambics ever since.
11. The one question I would ask God is...why does there have to be so much hate in people's hearts?
12. Lindsay Lohan...is a hot freakin' mess! I loved her in Freaky Friday and Parent Trap, but somewhere along the line, she lost her mind and her dignity!