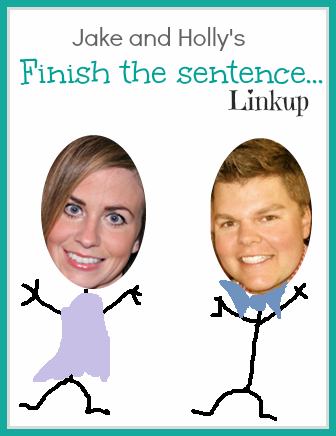 1. People always tell me... that I look like these random celebrities that I clearly don't look like. And that my sister and I look just alike. HELLO! She's adopted...ok, not really, but she looks like my Dad's side and I look more like my Mom's side. People are ca-razy!

2. I always ask to leave off the.... onions and mushrooms, both slimy and disgusting.

3. Kim and Kanye really... are perfect for each other. Douchey and douchey-er. But let's be honest with each other, I can't stop watching anything Kardashion-related. It's like a car accident, you just can't look away!

4. My parents mom always reminds me... to put something on my lips. She has at least 3 different types of chapstick, lip balm, etc. in her purse at all times.


5. Every single day I... wish I could either sleep in or take a nap. Like I've mentioned in previous posts, I am generally a VERY sleepy person.


6. This one time in College... I drove to and from San Antonio, TX (13 hours each way) within a 36 hour time frame with my sister, brother-in-law and his brother. We went down to see Mizzou football play in the Big 12 Championship. We didn't win, but the trip was fun! Tex-Mex anyone?

7. My grossest habit is... like Holly said in her answer to this question, picking. I like to pick scabs, my skin, my boyfriend's skin, my dog's skin. It's gross, but weirdly addicting.


8. I know all the words to... Got Money by Lil Wayne. What? It's a good song!

9. When I grow up... I want to be a Super Model. Oh wait, I would need to grow 6+ inches to do that, nevermind...
10. I will never, ever... have a snake as a pet. I have had nightmares about snakes since I was a little girl, and those slimy things still haunt my dreams. Ick!